Best of the Pacific Northwest: Myron Redford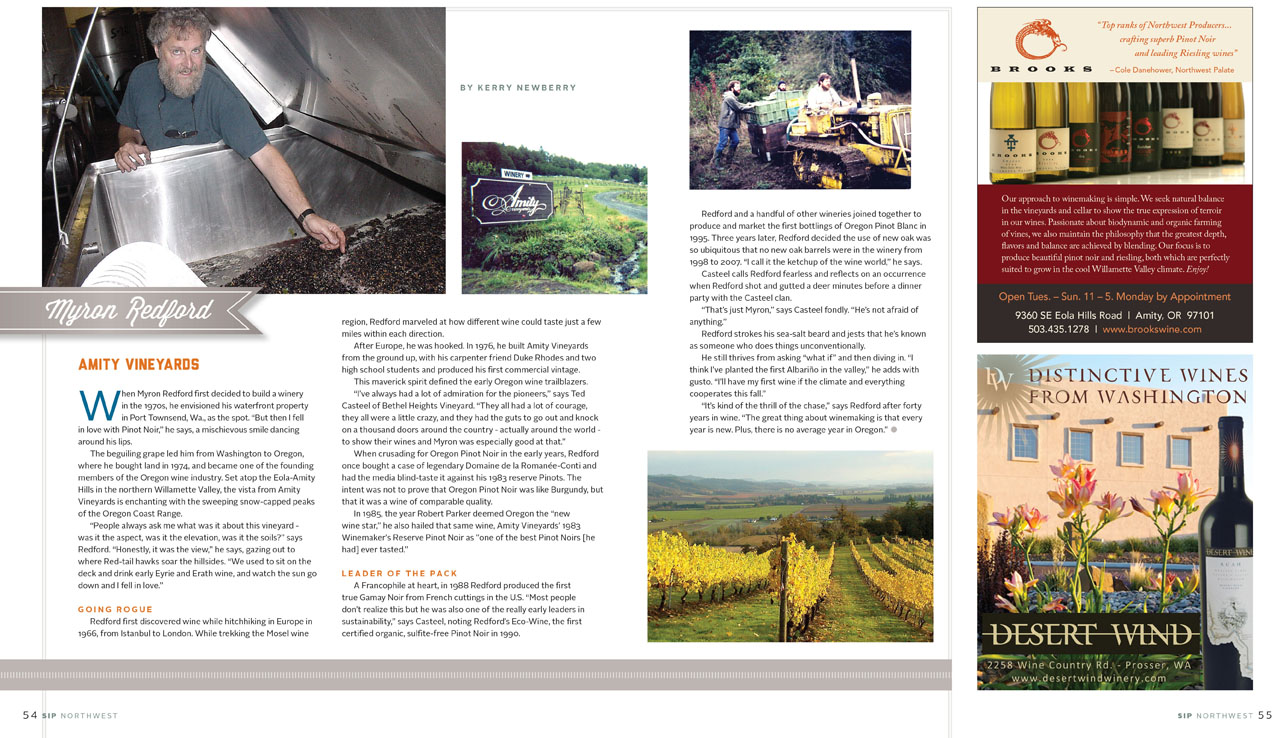 Sip Northwest, Summer 2012
When Myron Redford first decided to build a winery in the 1970's, he envisioned his waterfront property in Port Townsend, Washington as the spot. "But then I fell in love with pinot noir," he says, a mischievous smile dancing around his lips.
The beguiling grape led him from Washington to Oregon, where he bought land in 1974, and became one of the founding members of the Oregon wine industry. Set atop the Eola-Amity Hills in the northern Willamette Valley, the vista from Amity Vineyards enchants with the sweeping snow-capped peaks of the Oregon Coast Range.
"People always ask me: What was it about this vineyard — was it the aspect, was it the elevation, was it the soils?" says Redford. "Honestly, it was the view," he says, gazing out to where Red-tail hawks soar the hillsides. "We used to sit on the deck and drink early Eyrie and Erath wine, and watch the sun go down and I fell in love."
Redford first discovered wine while hitchhiking in Europe in 1966, from Istanbul to London. While trekking the Mosel wine region, a friend taught him to say 'I want your house wine' in German. Redford marveled at how different wine could taste just a few miles within each direction.
After Europe, he was hooked. In 1976, he built Amity winery from the ground up, with his carpenter friend Duke Rhodes, and two high school students and produced his first commercial vintage.
This maverick spirit defined the early Oregon wine pioneers. "I've always had a lot of admiration for the pioneers, because they came and did this before there was any sort of external validation," says Ted Casteel of Bethel Heights Vineyard.
"They all had a lot of courage, they all were a little crazy, and they had the guts to go out and knock on a thousand doors around the country—actually around the world to show their wines, and Myron was especially good at that."
When crusading for Oregon pinot noir in the early years, Redford once bought a case of Domaine de la Romanée-Conti and blind-tasted media with the legendary wines and his 1983 reserve pinots. The intent was not to prove that Oregon pinot noir was like Burgundy, but that it was a wine of comparable quality.
In 1985, the year Robert Parker deemed Oregon the "new wine star," Parker also hailed that same wine, Amity Vineyards' 1983 Winemaker's Reserve pinot noir: "One of the best pinot noirs I have ever tasted." Amity is known for elegant wines that speak of place, and reflect the wines Redford first fell for in Europe.
"Myron makes wine in a very simple, direct way — what you are getting from him is really authentic," says Casteel. "He doesn't use a lot of new wood or fancy processing techniques, it's the Willamette Valley fruit and it's the vintage that you are tasting when you taste Myron's wines."
A Francophile at heart, in 1988 Redford produced the first true Gamay noir from French cuttings in the U.S. "Most people don't realize this but he was also one of the really early leaders in sustainability," says Casteel, noting Redford's Eco-Wine, the first certified organic, sulfite-free Pinot noir in 1990.
Redford and a handful of other wineries joined together to produce and market the first bottlings of Oregon pinot blanc in 1995. In 1998, Redford decided the use of new oak was so ubiquitous—"I call it the ketchup of the wine world," he says deeply—that no new oak barrels were in the winery from 1998 to 2007.
He cites winemaker Louis Martini who said: "I want to taste the place where the grapes were grown, not the container in which they were aged," as the mantra he abides by.
Redford strokes his sea-salt beard, and jests that he's known as someone who does things unconventionally. Casteel calls him fearless. (He did shoot and gut a deer minutes before a dinner party with the Casteel clan once).
"That's just Myron," says Casteel fondly. "He's not afraid of anything."
Redford still thrives from asking "what if" and then diving in. "I think I've planted the first albarino in the valley," he says with gusto. "I'll have my first wine if the climate and everything cooperates this fall."
"It's kind of the thrill of the chase," says Redford after forty years in wine. "The great thing about winemaking is that every year is new," he says. "Plus, there is no average year in Oregon."